Free Shipping

on all U.S. orders!

Follow along on Social

@Tickledteal #Tickledteal

Join our mailing list

No spam or junk, just super rad new arrivals, specials & offers from the Tickled Teal Team.
Pattern Pattern Pattern
Our popular patterned dresses and skirts are warm weather ready, designed with breathability in mind to keep you comfortable all day. Crafted with lightweight fabrics, they offer a fashionable and functional selection for any occasion.
Shop NEW Arrivals
LAYER like a PRO
Look fierce this season with our fan-favorite cardigans. Make a statement anywhere you go with these versatile pieces. Our cardigans will be your new favorite go-to due to the trendy style and soft material.
Shop Cardigans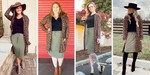 One thing that we really care about here at Tickled Teal is making sure that everyone is able to feel comfortable and beautiful in the skin...